Lewdest Labyrinth
A downloadable game for Windows and macOS
This game contains sexual content and is intended for mature audiences only.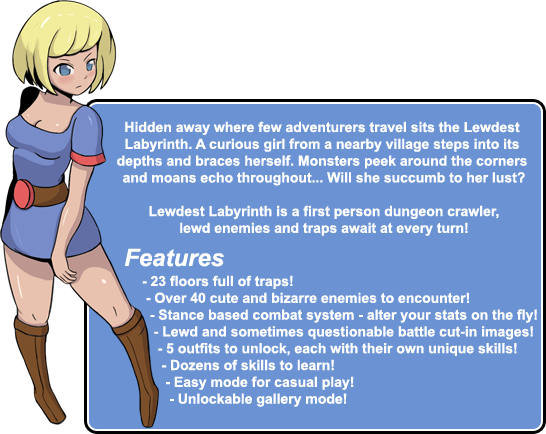 Once purchased, you will receive an email with a link to your downloads for you to keep. Please use a valid email address and check your spam folders just in case.
Please try the demo version found below if you have any concerns regarding compatibility with your system. The demo version goes up to the third floor and has a 100 XP cap.

Controls:
WASD or the arrow keys, Q and E - Movement.
Spacebar/Enter/Z - Confirm.
ESC/Backspace - Open menu or cancel.
X - Wait in place, this also maps the tiles next to you.
Number keys - Use items. Items can be used at almost any time.
Tab - View details of currently held items.
Shift - Hold down to throw away an item instead of using it (outside battle only).
C - Recover HP, clean yourself or repair clothing.
R/F - Change clothing.
I - Hold to view wardrobe status.
H - Lust ability.
Pressing F5 will change or reset the game window.
Holding F1 will display a help overlay.
System Requirements:
Processor: 2.0GHz Dual Core
Memory: 2 GB RAM
Graphics: DirectX 9 Compatible or equivalent
Storage: 350 MB available space